T09 Roby is the mobile stairclimber that delivers unbeatable comfort and safety. Roby gives wheelchair users the chance to overcome architectural barriers, whether indoors or outdoors, that obstruct mobility.
Designed and built to climb straight staircases and square or rectangular landings in total safety. The special track design achieves a high level of grip without leaving marks on the stairs or landings.
Quality
The Roby is a market leader and a great choice for any distributor looking to supply their customers with avant-garde solutions.
Innovative
The Roby is powered by an irreversible electronically controlled geared motor (tratogetonic).

This guarantees the following:
A constant journey speed in every situation; whether travelling up or down, laden or unladen the speed will remain the same;
23 Floors of travel from one battery charge;
Safe and easy use for both passenger and operator.
Functional
The features available on the Roby are all aimed at improving the experience of the operators and passengers. They ensure stability and fluid movement whilst travelling both up and down the stairs. They also provide greater maneuverability whentravelling on level.
Ergonomic
Roby is perfectly ergonomic. For the operator:
- it can be dismantled in two manageable pieces; this makes the Roby easier to transport and store.
- minimum effort for loading the passenger
- easy floor transfer, thanks to auxiliary wheels that activate automatically
- attachments that can be adjusted in height and width, practical and safe, for hooking the wheelchair
- a control panel on the adjustable steering bar that includes a battery charge gauge, gradient indicator, emergency stop button, activation key.
- pedal safety devices (no effort required by the operator)
- silent movement
- manual descent system in case of on stair failure. For the passenger:
- constant speed with no jerking movements
- easy and smooth wheelchair loading ensuring passenger comfort
- fluid, safe wheelchair unloading operation
- great stability during use.
Reliability
The total electronic management system reduces mechanical component wear and tear. This increases the product reliability and drastically reduces the chance of component failure. This system also manages battery charge to ensure charging instructions are followed. The system will not allow the battery charge to drop below a certain level. When the battery charge  reaches its minimum level, the Roby will provide only enough power to reach the next available level surface. This avoids total discharge, ensuring maximum performance and longevity of the battery.
Safety
The Roby includes a manual descent system in compliance with current european regulations. This system allows passengers to be securely transported either up or down stairs to safety.
Design and functionality
Roby's design is modern, pleasing and is made of totally recyclable materials. Steering wheel in aluminium oval profile. Control panel and casing in ABS. Belts in non-slip rubber. Headrest and grips in cleansable material. The smooth lines with no sharp edges or corners can be cleaned in just a few minutes.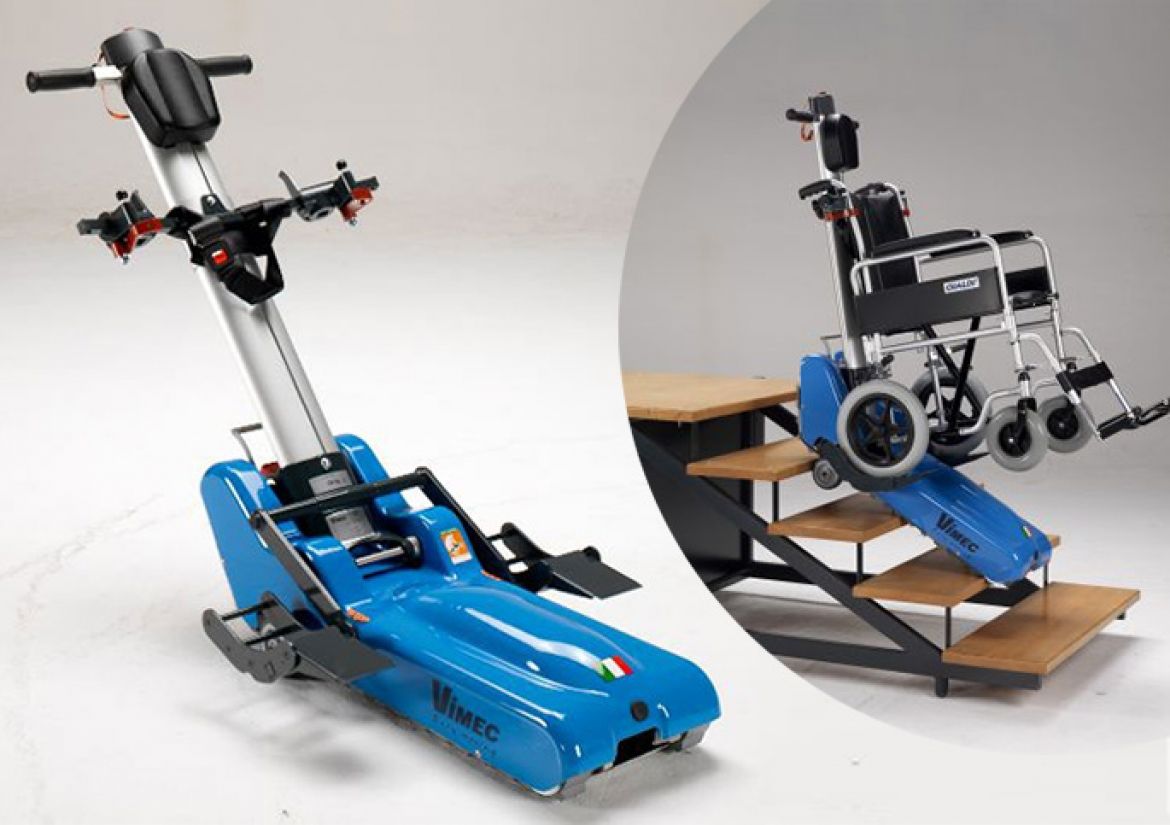 Technical Specifications
Standard
With this version it is possible to load most wheelchairs with 26-inch rear wheels (code ISO 12.21.06.039) seat width from 39 to 52 cm.
A.R.P. version
Small Wheels Housing With steering bar specifically created for transporting all wheelchairs with small rear wheels 12-inches (code ISO 12.21.06.045) seat width from 39 to 52 cm.
P.P. version
Multifunctional platform Version with platform for transporting all those wheelchairs and strollers that, because of their characteristics, cannot be anchored to the two preceding versions.
Product description
Guaranteed product
S&L Solutions chairlifts are guaranteed up to
24 months from consignment date.
Download files and specifications
Technical Specifications
Standards
Certification